Description
FRZ No Nonsense Forex Strategy EA is based on the popular No Nonsense Forex Method (NNFX). NNFX is a strictly rule-based manual trading method with strict risk management techniques. We have created our own EA robot based on the NNFX method (subject to our own modifications) and we have decided on our algo/indicators and optimal settings after extensive back/forward testing. The EA can be used in any timeframe but M15 or higher recommended.
NB: We are NOT connected nor affiliated with NNFX creators and the indicators we use are decided by us based on our own research and there can be modifications to the original rules based on our testing and optimizations.
Salient Features:
EURO FX VIX

: EA will automatically access the EURO FX VIX index from barchart.com and take that figure in deciding on the trading pattern/continuation trades.

Inbuilt news filter

: EA will automatically access upcoming news from investing.com and avoid trading during news times. It also features a news spike guard where SL is tightened during news events if there are on-going trades.

Ranging market identification

– EA has a special algorithm inbuilt that can effectively identify the ranging markets and avoid trading in them.

Avoiding related pairs

– EA will not take concurrent trades from relatable pairs. For example, if a trade is opened on EURUSD, then the EA will not open another trade that has either USD or EUR.
Live Account on fxblue

Monthly Return %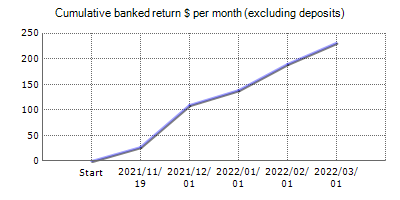 EA Specs
Product name
FRZ No Nonsense Forex Strategy EA
Current version
12
Platform supported
MT4
Timeframes supported
Any (M15 upward recommended)
Recommended pairs
Any currency pair
Recommended broker

EA works with any forex broker. EA is FIFO compliant and supports US brokers as well.

However, we can recommend ICMarkets. You can get 30% lifetime discount on spreads and commissions if you use our IB code: 23649 in ICMarkets new registrations or transferring existing accounts. However, if you want to join our VIP Club, then you need to use ICMarkets IB Code: 60207.

FRZ No Nonsense Forex Strategy EA

Recommended deposit
$500 Minimum on 500:1 leverage. If leverage is less than this, you may have to increase the minimum deposit. Cent accounts can also be used.

License

Single purchase includes a lifetime license for any two (02) trading account numbers. The two accounts can be either 02 real accounts or 01 demo & 01 real account. The trading account numbers can not be changed, returned or transferred once issued. You can submit your trading account numbers after purchase with this link. You can submit the two trading accounts numbers within six months of the purchase. Additional licenses can be added at an additional fee. The full terms and conditions including the refund policy are given on this page.

Existing customers are entitled for free updates subject to our terms.

FRZ No Nonsense Forex Strategy EA

VPS requirement

You need to run the EA 24/7. VPS is recommended unless you can keep your PC running 24/7. We can recommend this provider as a VPS provider, which is fast and affordable. 4GB RAM VPS is enough for this EA.

FRZ No Nonsense Forex Strategy EA

Support

Personalized support (remote desktop/providing set files) on first installation/automation (please request within 14 days of purchase). General live chat, support ticket and email support are available thereafter. However if you need personalized support (remote desktop/providing set files) for any installation/automation beyond this scope, you can always hire one of our experts at an additional fee.

FRZ No Nonsense Forex Strategy EA
A good VPS server is recommended for this EA as it needs to be running 24/7 on many charts.
Detailed PDF Manual will be provided with purchase.
How to Install:
Go to MT4>Options>Expert Advisors and tick "Allow web requests for listed URL" and then add following URLs:
http://ec.forexprostools.com/
http://worldclockapi.com/
https://barchart.com/
Copy the indicators into the MT4 Indicators folder
Copy the EA to the Experts folder
Load the EA to each of the charts (Make sure you load the EA when the forex market is active otherwise news filter settings may not get set properly)
Change settings if necessary as per the user manual PDF.
Please note that the past performance of any trading system is not necessarily indicative of future results. Full terms and conditions are given here
NB: We are NOT affiliated nor connected in any manner with the original creators of the NoNonsense Forex method and this product has NOT been endorsed by the original creators of the NoNonsense method in any manner. This EA is simply based on our own research on the possible indicators and settings in accordance with rules introduced under the so-called NoNonsense Forex method subject to modifications based on our research and testing.
FRZ No Nonsense Forex Strategy EA