Description
This is an expert adviser/robot that places orders based on harmonic price action patterns. Whenever a pattern is detected, the EA will place a buy or sell order according to the signal type. The patterns are recognized via indicators that are provided with the EA. The EA has its own algorithm to filter out low probability trades.
Real Account Performance on FxBlue (New Version)

Monthly Return %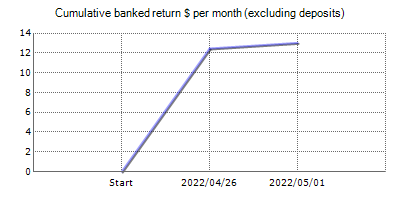 Installation Steps
1. Go to MT4>Options>Expert Advisors and Allow automated trading
2. Place EA file in the Experts folder of your MT4
3. Place indicator files directly within the Indicators folder of your MT4 (You don't need to run the indicators; EA will access them from inside)
4. Refresh/restart MT4
5. Open the charts you want and load the template to each of the charts.
6. Change the settings if necessary (default settings are good enough to go)
EA Specs
Product name
FRZ Harmonic Patterns EA
Platform Supported
MT4
Time frame
M15
Recommended pairs
Any currency pair
Suitable market sessions
Works on any session
Recommended broker
Any broker with low spreads.
Minimum deposit, leverage and lot size

$500 Minimum on 500:1 leverage. If leverage is less than this, you may have to increase the minimum deposit. Cent accounts can also be used. Recommended lot size: 0.01 per each $500 per pair.

FRZ Harmonic Patterns EA Robot

License

Single purchase includes a lifetime license for any two (02) trading account numbers. The two accounts can be either 02 real accounts or 01 demo & 01 real account. The trading account numbers can not be changed, returned or transferred once issued. You can submit your trading account numbers after purchase with this link. You can submit the two trading accounts numbers within six months of the purchase. Additional licenses can be added at an additional fee. The full terms and conditions including the refund policy are given on this page.

Existing customers are entitled for free updates subject to our terms.

FRZ Harmonic Patterns EA Robot

Support

Personalized support (remote desktop/providing set files) on first installation/automation (please request within 14 days of purchase). General live chat, support ticket and email support are available thereafter. However if you need personalized support (remote desktop/providing set files) for any installation/automation beyond this scope, you can always hire one of our experts at an additional fee.

FRZ Harmonic Patterns EA Robot

Current version
8.1
Example Harmonic Patterns
Bullish Harmonic Pattern
Bearish Harmonic Pattern
A PDF user manual will be provided explaining above settings.
Please note that the past performance of any trading system is not necessarily indicative of future results. Full terms and conditions are given here
FRZ Harmonic Patterns EA Robot